What is workplace absenteeism?
We understand "absenteeism" as any absence from work when medical care is planned. Managing it is a complex issue that affects all types of organizations and people.
Mutual insurance companies can help companies manage their absenteeism through effective monitoring of economic benefits, healthcare and prevention activities.
The costs of absenteeism
The costs of absenteeism are a factor that affects competitiveness and efficiency which condition the sustainability and growth of a country.
Direct costs

The main direct costs of absenteeism are wages for absent workers, some due to substitution (wages for substitutes) and those related to overtime hours. In general, these costs can be calculated rather accurately.
The costs for occupational disability in Spain are covered through the Spanish Social Security system meaning companies are not responsible for a portion of them. The direct costs for a company are:
Indirect costs
They derive from reduced productivity, the costs of substitution (recruitment, selection, training), product or service quality failures, decreased profits, Social Security payments and, in general, administrative costs (the people and activities involved with managing absences).
When it comes to absences due to occupational contingencies, the costs can be higher (sanctions or Social Security surcharges for benefits, operational halts, reputation damage, material damage, the loss of possible reductions in premiums or contributions for occupational contingencies due to low accident rates, etc.).
Our management model
We believe absenteeism management must be approached from a corporate social responsibility perspective by promoting health and implementing a culture of prevention. Based on this, we propose integrated management that combines healthcare, management, prevention and organizational aspects.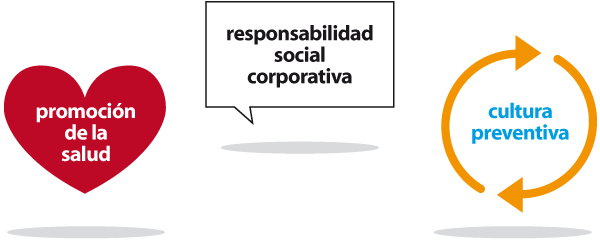 We have prepared a guide to implementing our absenteeism management model. You may use it for optimized verification and monitoring of your management of actions aimed at reducing absenteeism.
Benefits

With our model, you may obtain a series of benefits for:
Workers: improving their health, preventing accidents and minimizing economic penalties for medical leaves.
Companies: optimizing the organization and non-productive costs of their human resources structure.
Social Security system: lowering Social Security system expenditure, thereby contributing to its long-term sustainability.
Our management team
In order to develop our management model, we have teams of experts who specialize in each one of their areas.
Health management of absenteeism
Entrepreneurs can choose for the friendly society to take on the payment of the financial provision for common illness and non-work-related accident, as well as the control and monitoring of this, without prejudice to the responsibility of the public health service regarding healthcare provision. Based on our extensive experience, we have defined a specific operation in common risk and professional risk actions.
Our vocation for healthcare leadership through our clinical management project aims for the best results in terms of healthcare through best clinical practices. Thus, we are oriented towards medicine based on evidence and ongoing improvement.
Immediate Health Contact: athe minute we gain knowledge of a leave, a healthcare team contacts the worker by phone to conduct a first assessment of the case.
Personalized actions: based on the result of the assessment, we plan actions to streamline the worker's recovery process.
Specialization by pathological groups: we apply specific healthcare protocols and techniques for a pathological group which improves the results of the process. In particular, we offer great healthcare and management experience for trauma cases.
Process monitoring: we periodically revise each case to assess the evolution and make new decisions, when necessary. If a doctor believes the worker is ready to go back to work, we suggest this to the Spanish Public Health Service. In other cases, we suggest the Spanish Social Security administration approve their invalidity.
Healthcare indicator analyses: indicators are periodically obtained to allow:
Companies to have an overall view of their absenteeism.
Us to have information on the effectiveness of the model and areas for improvement.
Comprehensive treatment: the entire case is handled at our healthcare centres from the diagnosis to medical discharge. The healthcare centre physicians coordinate other professionals' participation as necessary through interdisciplinary work backed by technical support from specialized units.
Communications with companies and workers: our healthcare centres maintain constant and fluid relations with companies and workers to streamline the administrative and care processes, all while respecting confidentiality as per data protection laws.
Our support tools for your management
Through Asepeyo Virtual Office
you can access a set of simple and intuitive tools to help you autonomously implement a responsible absenteeism management model.
Healthy Company
With the aim of increasing the knowledge of preventive measures and the dissemination of good practices among our partner companies, and aligned with the recent change of denomination of the INSST, which becomes the National Institute of Safety and Health at work, We must raise awareness of projects that promote healthy working environments.
A healthy company is one that promotes healthy work environments in the understanding that health is a complete state of physical, mental and social wellness.
According to the World Health Organization, the key aspects for achieving healthy work environments are:
Asepeyo Absenteeism Observatory

Annually We publish the observatory in common contingencies, which analyzes the behavior and trends of the casualties by common disease and non-work accident of the workers, among more than 220,000 associated companies. Most relevant Data of the year 2018:
Labour casualties have increased by 13.4%, 4 times more than the number of workers affiliated with the Social Security
The average duration of the casualties is 38.6 days
The pathologies that accumulate most cases are those of the spine, with a 15.41%, followed by the psychiatric (8.7%)
28% of the casualties occur on Mondays and 20%, on Tuesdays
More than half of the casualties occur in workers less than three years old in their companies
To Expand this information, we present the Observatory of Occupational accidents in professional contingencies of the year 2018. We Highlight some aspects:
The behavior of the accidents according to the economic cycles
The incidence by communities, by sector of activity and age
The 10 most prevalent pathologies in work accidents
The Incidence of traffic accidents