Technology and innovation
A safer work environment for you

Latest technology in risk prevention
Driving simulators
Check your driving level using a high-immersion simulator. We offer the highest level of reality. You can recreate all types of situations and assess your skills at the wheel without any risks.
Virtual reality
Experience real occupational risk situations: falls from heights, electrical accidents and fires. Discover the consequences and most adequate measures for preventing them.
Reproduction of noise environments
Experience what workers feel when surrounded by noise. You can analyze the effects and apply the best prevention measures.
Technology and healthcare
Your diagnosis and treatment, made more effective

We'd like to offer our protected workers an innovative, state-of-the-art service in medicine and physical therapy. Therefore, we work on R+D+i projects and keep our equipment on the cutting edge of technological progress.
Here are a few practical examples:
3D printer
We have fostered the use of 3D printing in traumatology with a medical research program. This technology means great progress in the treatment of complex fractures (pelvis and upper limbs).
3D printers reproduce bone models of serious injuries on a natural scale. This helps the medical team evaluate the fractured bone structures before surgery and can be used as an excellent training tool. Plus, patients get more detailed information on the treatment they are to receive.
The print process begins by capturing the image of the element to be reproduced via CAT. The software generates a three-dimensional reconstruction of this image on the computer. Afterwards, the 3D printer prints a piece with a detailed, real-size radiology image. And this is the bone model used by the team of operating surgeons.
To date, we have used 3D printing to plan and surgically resolve complex fractures. And for some surgeries, the 3D printed piece has been sterilized to help mould the material used to secure fractures (pins, screws or plates) and thus facilitate proper positioning.
Alter-G anti-gravity belt
We put the latest aerospace technology in use for your rehabilitation. The anti-gravity belt helps reduce the patient's bodyweight by up to 80%, thereby regulating the percentage of gravity based on the injury and type. When their bodyweight is reduced, the patient feels like they're floating.
The anti-gravity belt fosters the use of early physical therapy techniques for pathologies commonly observed by the Mutual Insurance Company. Patients with injuries in their lower limbs get better quality treatment which shortens their recovery time and reduces their medical leave period.
Remote medicine
Virtual consultations from healthcare centres with our specialists using audio and video is now a reality. We can interact with patients, observe their injuries and do a physical exploration via the doctor at the healthcare centre.
By using this technology, you'll have the best doctors wherever you are with much less time between consultations and much less travel.
Apps and Virtual office
With us, wherever you are

From anywhere and from any device, we're always with you. With Asepeyo live, we're available 24 hours a day, 365 days a year.
Here are a few examples:
Asepeyo Virtual Office
If you're a company or labour consultancy firm

Complete your habitual procedures easily. Fill in occupational accident reports or report a worker's care at one of our centres.
If you're a protected worker

Check your data, access your medical reports or verify your proof of pay while on leave.
You still don't have access to our virtual office?
If you're a worker and have an electronic ID card, you can login directly.
Otherwise, you can ask for your login information at your closest office or complete an:
'Asepeyo empresas' app for companies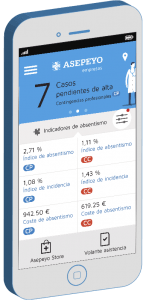 App ' Asepeyo consultancies '
If you are a Labor consultancy and collaborate with Asepeyo You can do your paperwork with the mutual from your mobile device: Consult in detail the companies and freelancers that you have in portfolio, directly access the report "Contribution differences" and Receive alerts of pending efforts with us.
Download the app here: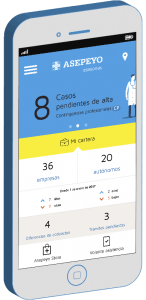 APP ' my Asepeyo '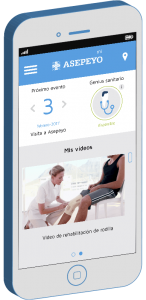 If you are an employment advisor and you collaborate with Asepeyo, you can do everything you need to do with the friendly society on your mobile device: consult in detail the companies and self-employed workers in your portfolio, access the "Contribution differences" report directly and receive alerts about procedures pending with us.
Dynamic Data Analysis
Companies with a large number of workers need an accident rate and absenteeism management system. If you work in a HR or Prevention department and your company is an Asepeyo member, this Business Intelligence application can be used for real time health diagnostics at your company. You can also directly interact with the corporate report on companies and group the data you need for more flexible decision-making.
New infrastructures
We built your user experience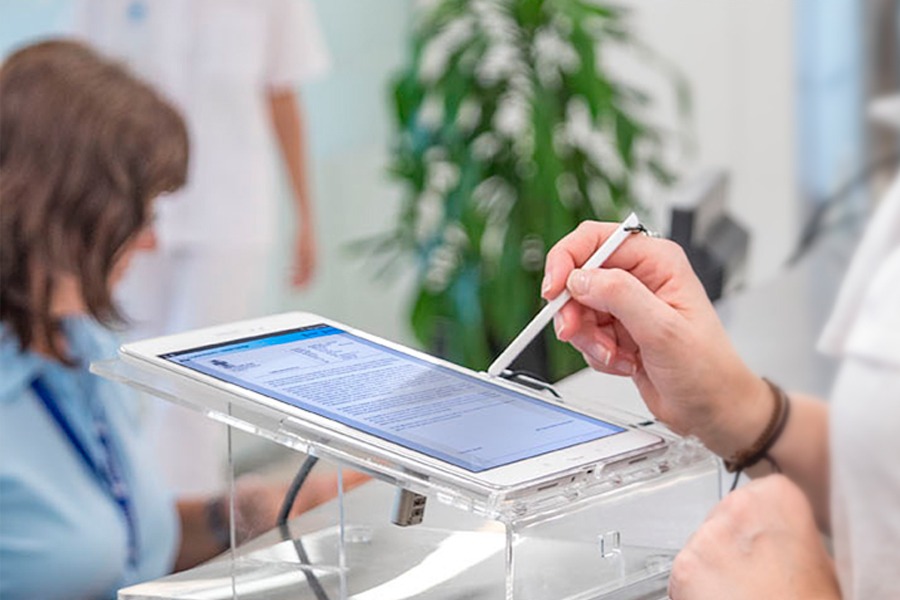 Digital Signage
We want to keep you informed at all times. You'll have access to our most important information at our hospitals and all healthcare centres.
Wi-Fi
All of our facilities are equipped with Internet via the corporate wireless network. You just have to register once and then you can login at any centre. The entire process is automatic and secure.
Digital tablet biometric signatures
We'd like to work with you in a more practical and simple way by giving up paper all together. Our admissions departments will do all procedures using our corporate biometric signature system.
Our Asepeyo live digital model
Asepeyo live is our digital transformation model. We have more than 40 digitization projects underway where the customer is the focus. With us, you can experience our transformation first-hand.